Time tracking your team will actually use
An intuitive, lightweight time tracking experience that's easy to learn and use, and gives you immediate and actionable insight.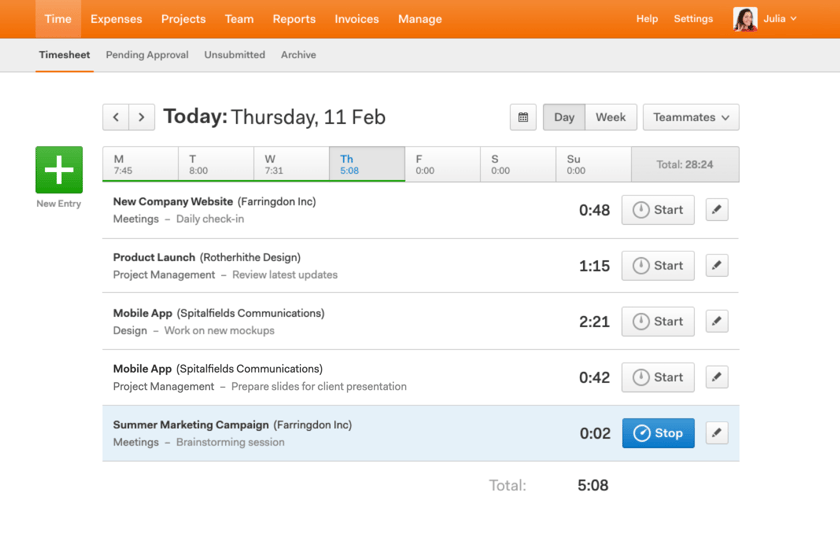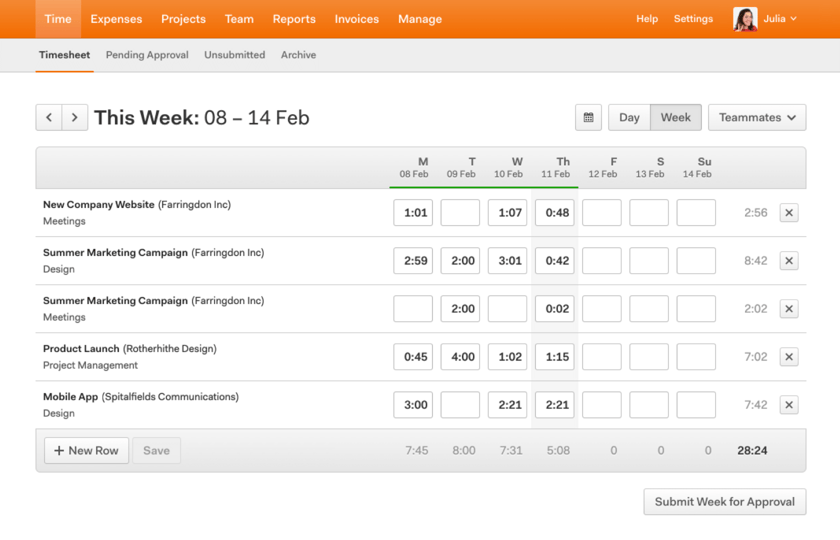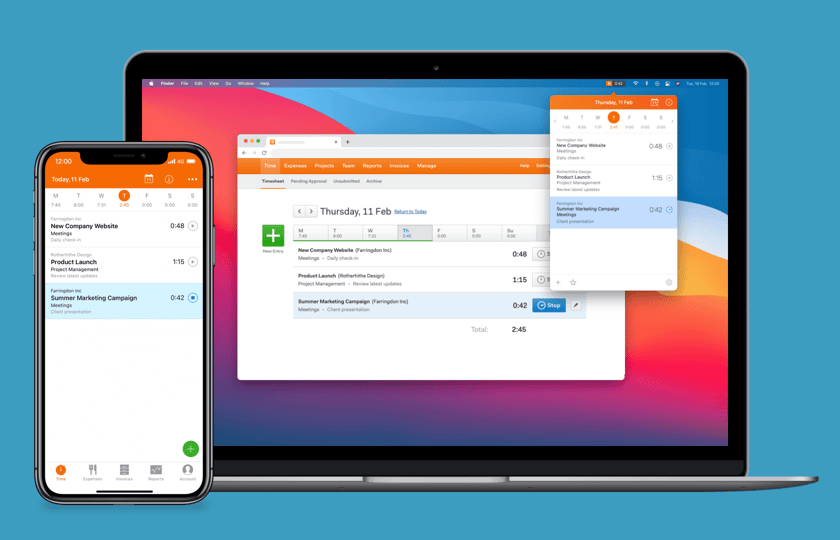 Track time as you work
Enter all your hours at once
Track time everywhere
工时表
Track time however you work
Start and stop timers as you work, or fill in your timesheet at the end of the day.
Desktop and mobile apps put time tracking at your fingertips.
Automated reminders encourage you to track time consistently.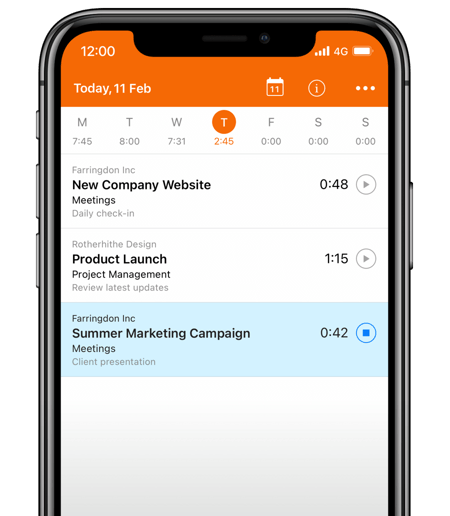 Integrations
Start timers from your favorite tools
Track time from the productivity tools you already use every day.
Speed up time tracking with integrations for Google Calendar & 前景.
Browser extensions make time tracking visible throughout the day.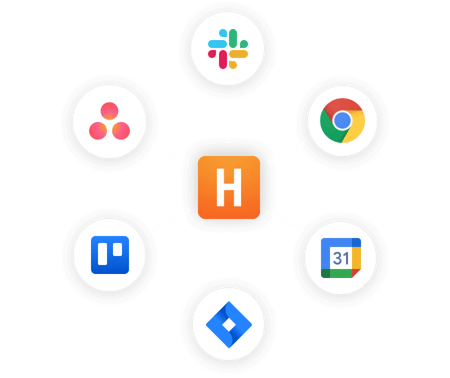 "Having an easy, clean way to track time allows us to focus on the tough engineering problems where we bring value to
our clients.
"
Genevieve Laing
Gain insight to improve performance
A wide selection of visual reports help you support your team and keep projects running smoothly.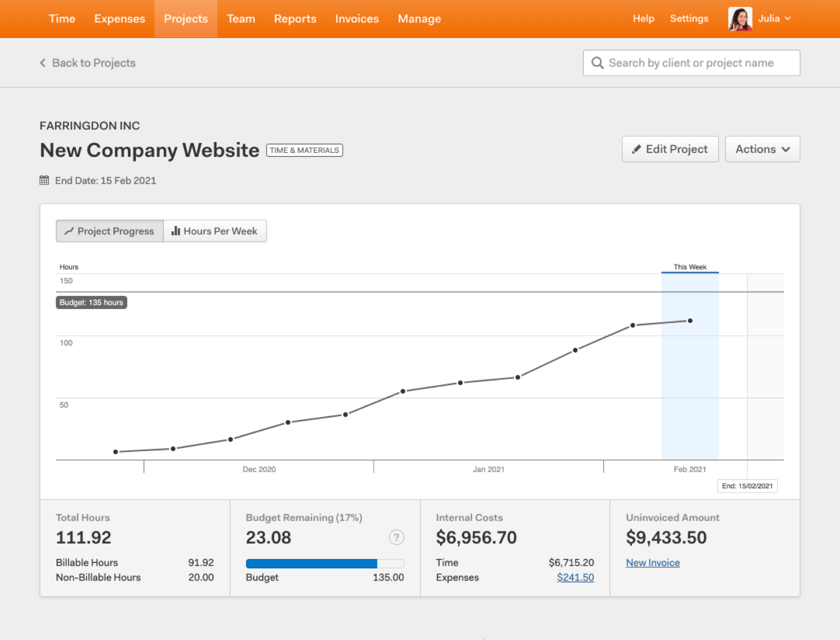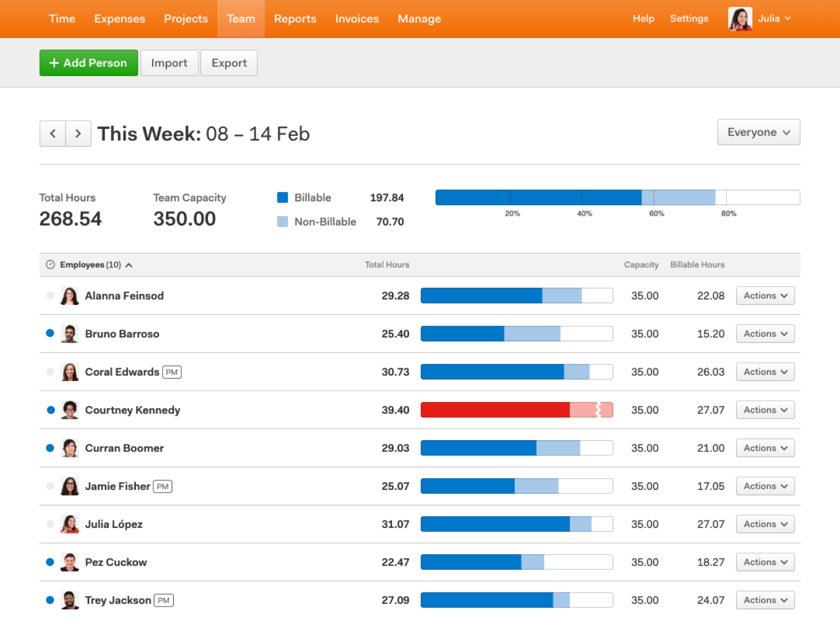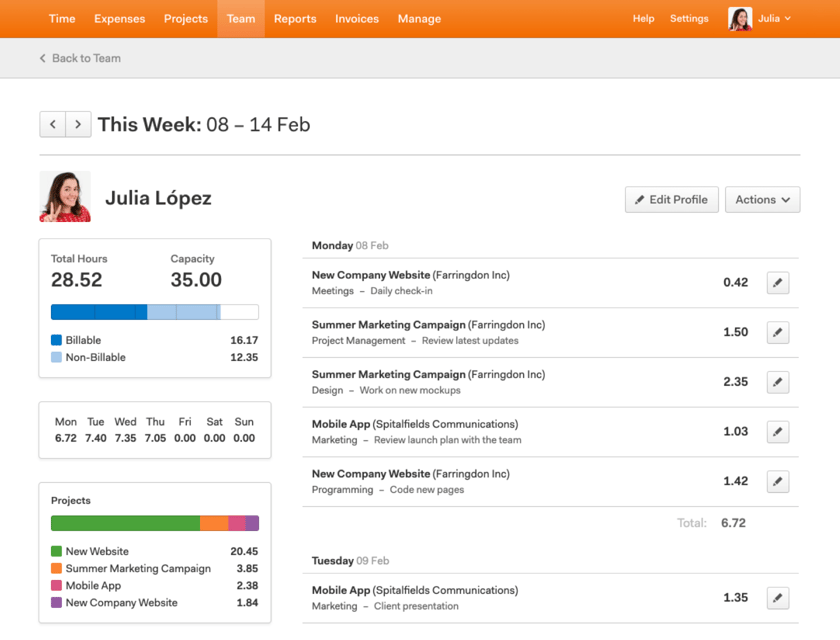 Visualize project progress
Keep tabs on team capacity
Dig into the details
Project 报告ing
Keep projects profitable and on track
Stay on top of budgets and internal costs with live visual reports.
Zoom in to understand where teams can decrease costs.
Review past project data to improve how you plan and price future projects.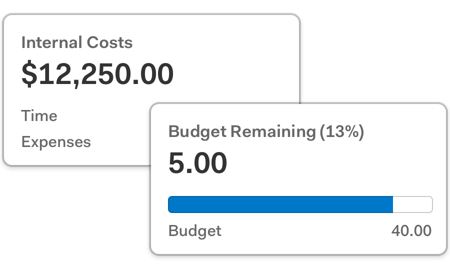 Team 报告ing
Manage your team's bandwidth
Visualize your team's capacity so you can adjust their workload accordingly.
Understand where time is spent for more focused team support.
Review, edit and approve timesheets for accuracy and insight.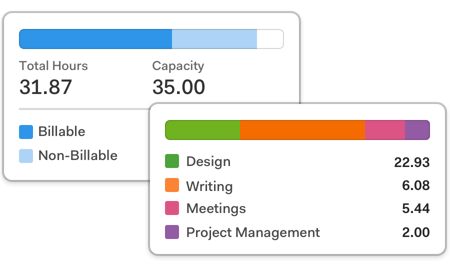 Custom 报告s & 出口
Do more with your data
Have a preferred analysis approach? Generate custom time reports, export them, and sync your data with third-party analysis tools.

"We really focus on work-life balance in remote work… Time tracking reveals if somebody is overburdened and that becomes an immediate conversation."
Noah Gedrich
Transform time into revenue
Easily turn tracked time and expenses into 发票 and get paid fast with Stripe and Paypal integrations.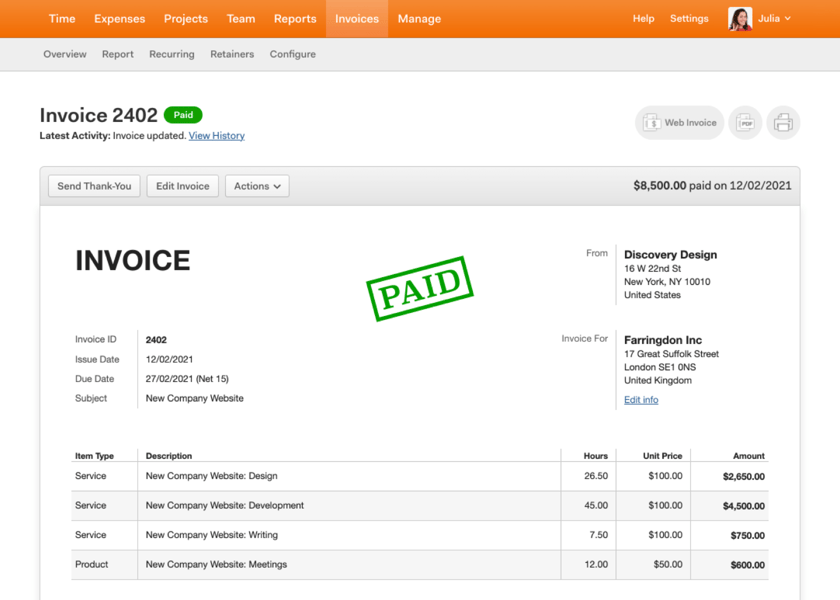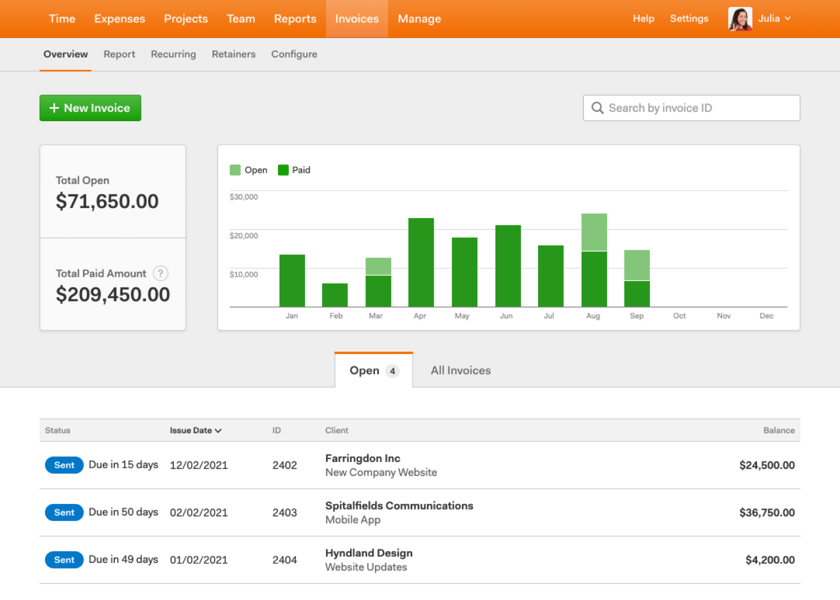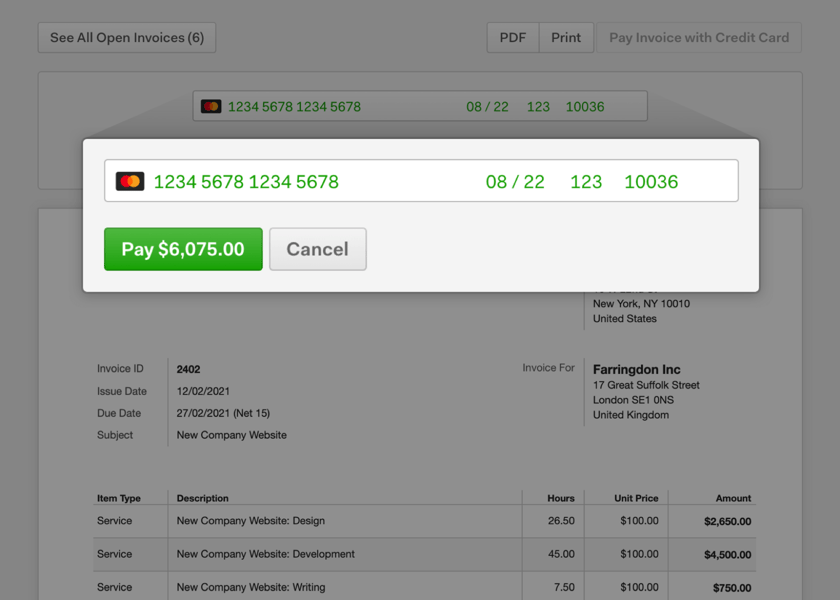 Generate and send 发票
Keep tabs on payments
Let clients pay online
发票
Automate invoice management
Generate 发票 automatically from your tracked time and expenses.
Email 发票 with just a few clicks and see when your clients review them.
Set up automatic reminders and thank-you notes to streamline your communications.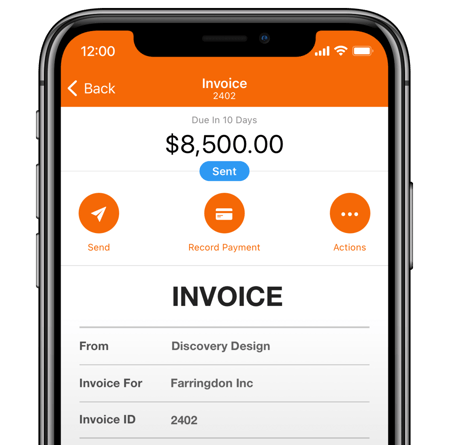 Online Payments
Get paid fast with PayPal and Stripe
PayPal and Stripe integrations let your clients quickly pay 发票 online.
Paid 发票 show automatically so your records are always up to date.
Let your clients pay recurring 发票 automatically with the Stripe integration.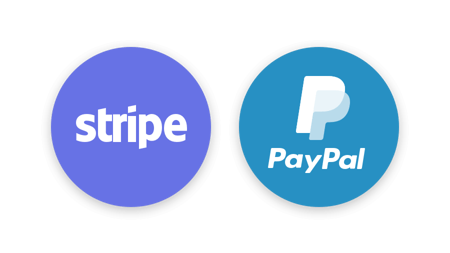 Accounting Integrations
Keep your books up to date
Automatically copy your 收获 invoice and payment information to QuickBooks Online or Xero for streamlined accounting.

"Our client required very accurate time records, and we needed to be able to generate 发票 to charge them for that time. 收获 was just the tool for us."
Tim Crossley
Streamline your workflow
Save time and work more efficiently with dozens of integrations that help you optimize your entire workflow.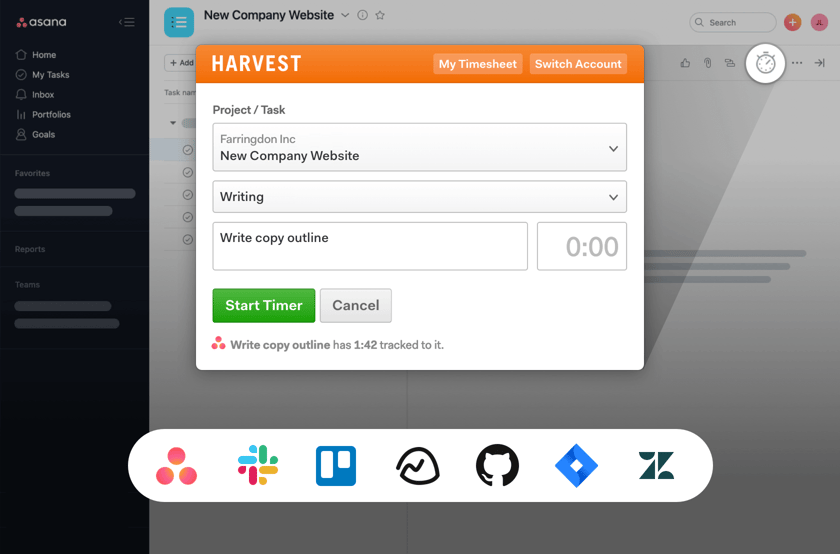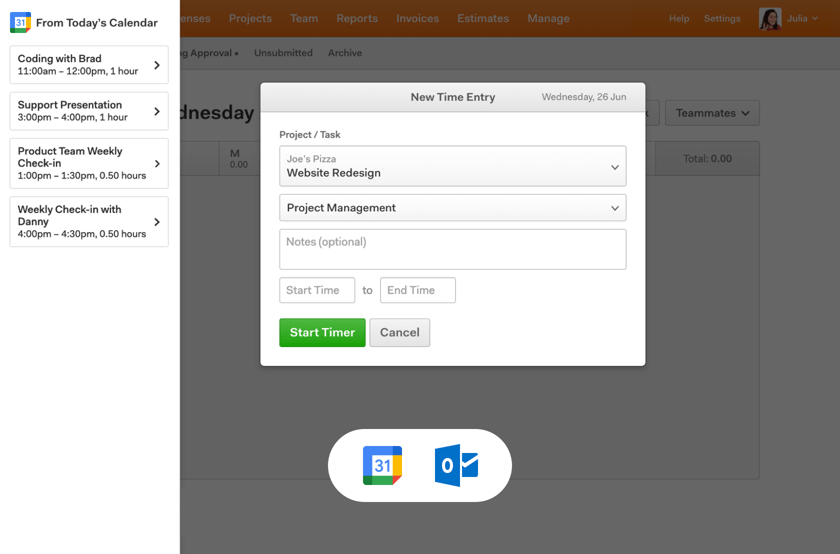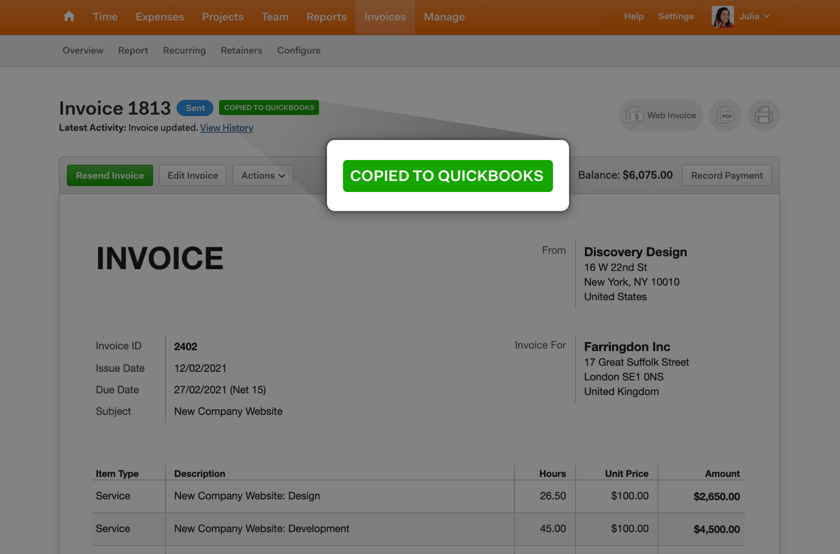 Track time from your tools
Import calendar events
同步数据 & 发票
Productivity Integrations
Put time tracking where your team works
Add time tracking to productivity tools like Asana, Slack, Jira, and Trello.
Turn events from 前景 and Google Calendar into time entries.
Install browser extensions to keep time tracking visible throughout your day.
Finance Integrations
Simplify your payments and accounting
Integrate with Stripe and Paypal for faster payments.
Copy invoice payments to Xero and QuickBooks Online.
Export your data or sync it with third-party reporting tools.
Automation Integrations & API
Optimize your processes
Integrations with IFTTT, Integry, and Zapier help you set up automatic workflows that eliminate duplicate tasks and save you time. And with 收获's API you can even build your own custom integrations.

70,000+ companies track time with 收获